COMPANY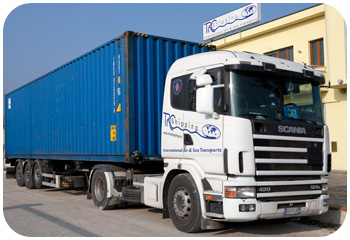 TRC Shipping is an international freight forwarder situated in the region of Marche in central Italy right on the Adriatic coastline near to the seaport of Ancona.
The company's leading traffic is FCL and LCL loads via sea in exports and imports from any origin to any destination worldwide and offers additional services to its clientele via air and via land transportation. Among the services offered, TRC Shipping can also organize consolidated loads by gathering cargo all throughout Europe with departures and arrivals on all European sea ports.
Agreements held with all of the major liner operators, TRC Shipping can also offer complete "door to door" services for the cargo flow on all territories in collaboration with its network of correspondents abroad. TRC's corresponding offices are TRC Cargo in Mexico and Central America, HTL and TRC Logistics in India, Fukuyama in Japan, Taiwan Express in Taiwan, Bermont in South East Asia, Imex in the Middle East, Seasky in Brazil, Cordaro Shipping in the United States and Vinpac Lines in the Far East, Argentina and in Canada.
TRC's commodities are chemicals, furniture, housewares, musical instruments, footwear accessories, beauty and health care products while its leading activity is focused on shipments of beverages and food products with mention to many of them as being the best known brands of the Italian food industry.
TRC Shipping is also capable of operating and handling special transports for heavy and large sized machineries and its past experience includes successful services for important oil industries and for others dealing with energy and research.
Additional services that TRC Shipping offers is the assistance and coordination for cargo destined to important international annual events and exhibitions for the food and beverage industries like Fancy Food in USA, Flavours of Italy in Canada, Sial in France and Anuga in Germany.
TRC's staff is smart, well trained and characterized for its professional attitude giving value and efficiency to always guarantee satisfaction to any demand regarding logistic solutions.
TRC Shipping welcomes and invites you to place contact for any enquiry and it will be a pleasure to serve you.